WE ARE STEEL & INK
SINCE 2009
Modifying bodies of people from St. Louis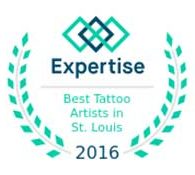 WHERE WE'VE BEEN
Since 2009, Steel & Ink Tattoo and Piercing Studio has been modifying bodies of people from St. Louis to surrounding cities. Our services include custom tattoos in various tattooing styles by experienced, licensed tattoo artists and full-service body piercings by professionally trained and licensed piercers.
We have large selection of quality, affordable body jewelry, street wear apparel, and a variety of aftercare to meet the needs of each client of Steel and Ink Tattoo and Piercing Studio, St Louis, MO in our online store. 
View our artist portfolios online to see some of our tattoos and piercings. Call, email or stop by our tattoo and piercing studio, and share your ideas about your new tattoo or piercing with one of our award winning artists or our licensed/certified piercers.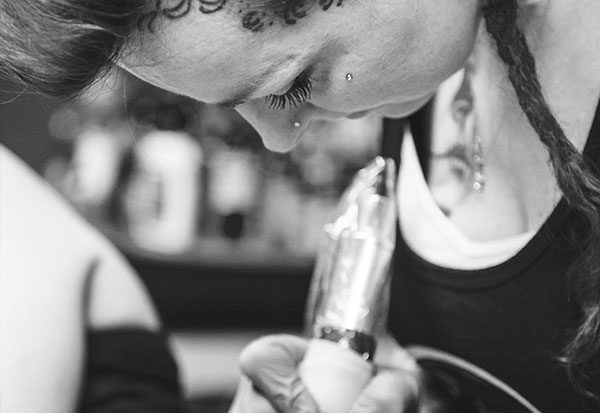 STEEL AND INK STUDIO FRIENDS & NEIGHBORS
Steel and Ink Studio is known for quality piercings and tattoos in the St. Louis area. We invite our customers to meet our other friends around town. Please visit their sites and say hello to them for us!
WHAT PEOPLE ARE SAYING ABOUT STEEL AND INK TATTOO AND PIERCING STUDIO
Terry Wirtel
My overall experience at Steel and Ink has been exemplary. I have gotten five tattoos so far and have been very pleased with the professionalism and quality of all my tattoos. The staff have been great to work with and I have to give a shout out to my artist, Brandie Medina, for her care when doing the tattoos and for her creative work with making/designing all of my tattoos exactly how I wanted. Brandie has such a caring personality, is upbeat and makes you feel as you are a part of the family. Everyone else in the shop is the same way. You always feel welcome when you are there. This speaks volumes when I say that I already have 2 more planned and am always excited to get them. I have to add that my family also goes to Steel and Ink. We would not even think of going anywhere else. Everyone who sees our tattoos always comments on how great they look and I know that Steel and Ink have ended up with friends of ours going there also with the same satisfaction. All the artists at Steel and Ink are great.
Laurel Taylor
From the moment I walked in I felt welcome and at home. The man working at the counter had me flip through artist books and helped me pick the artist that best suited what I wanted. I picked Jake even though all artist were great. He drew my tattoo and it was above and beyond what I had wanted and the tattoo was very easy to sit through with how little it hurt compared to my others. It was about a month ago it healed great and is still bright. Thank you, Jake DeNoyer and Steel and Ink for being awesome
Caleb Mcfarland
So first things first I was looking around the STL for someone to do my tattoo. Meet with a few people. I have heard great things about Steele and ink so I went out read the reviews looked at the artists and then went and met Jay Johnson. Now I'm not an artist so when I showed him my drawing he did not laugh he was respectful towards the ideas that I had. This was my first tattoo so I was a bit nervous going in to did not know what to expect but the whole time we had awesome conversations we took breaks when need to kind of get up walk around get something drink and then get back to work. After he did mine he did my wife's as well. Now for her she ended up getting a bit light headed during the process and he made sure that she was doing ok during the tattoo but then after he would not let her up because neither of us wanted to her to pass out. Just showed me that he cared which I think can be hard to find. Also there was another artist Jake that was there he was pretty fantastic as well. I really enjoyed the company of all the artist, I think Steele and ink is a great place to go. I won't go anywhere else to get a tattoo I found my place and Jay is my go to guy but any of the artist there I would not mind going to.
Selena Osthoff
Fino is a super nice guy who takes his time with his piercings. He had a few piercings after me and instead of rushing, he fielded all of my questions and was very thorough. I'm grateful that I had him to calm my nerves. I'd definitely recommend!
Cherice Barrera
I love this tattoo shop! great staff, very friendly, easy scheduling and great artists!
i had two tattoo cover-ups nobody would touch but Shawn Medina at steel and ink didnt flinch. He did an amazing job and i will always be back for my tattoo and piercing needs.
Elena Rose
Today my first large tattoo was completed at Steel and Ink Studio, and it has been an incredible experience. Brandie was my artist, and she impressed me with both technical skill for her craft and warmth toward her customers. She worked with me through any issues to make sure that I was left with a tattoo that I love!
Pain tolerance was one of my biggest concerns about getting a larger tattoo. Brandie was always considerate about my pain level, and actively helped me to decrease my discomfort.
If you are looking for a tattoo, I highly recommend going to Steel and Ink Studio. The artists are talented, friendly, awesome people to work with. I am so grateful for my experience and will definitely be returning. Thanks, Steel and Ink!
Ron Happold
I recently brought in my own custom design and Jake DeNoyer did an awesome job replicating it for me. He respected the work very much, stopping to ask about particular details to ensure he was giving me exactly what I wanted. The shop itself is a very laid back environment with everyone seeming very down to earth and friendly. Fair pricing as well….
Don Travis
I won't get tatted anywhere else. Brandie and Shawn have really put together an awesome spot w a cool staff……and all of them are talented. Go get a tattoo from them……I bet u go back again and again.
Jenn Andracsek
I love this place!
The whole shop is full of talented people.
I got my belly button re pierced by Fino who was very knowledgeable and friendly. He explained the whole process to me before we started, talked me through the piercing and explained how to properly take care of my new piercing. I'll definitely be going back. These guys are great.
Keith P.
Got my first tattoo today. It's for my son who has autism, Jay Johnson was my artist and he did a great job. He took the tattoo I wanted and put his spin on it and it turned out great. Thanks, Jay.
Steven K.
I have gotten two separate tattoos from Brandie in the past couple years & I always leave happy! The Steel and Ink talent is fantastic & their customer service is heart-warming!
Morgan Jones
I have been to a few different shops over the years for my first four tattoos trying to find a place I liked. None compare to Steel and Ink. I have gotten my last three from there and refuse to go anywhere else now. Brandie, Shawn and Jake have done my last three and they all were amazing to work with and do amazing work. I also got my nose and eyebrow pierced there two days ago and they walked me through every step of the process and told me what to expect. Other places I have been to have never taken the time to do that. Love them and now refuse to go anywhere else. You will not be disappointed!
Zach
Steel and ink tattoo studio is top notch. I currently have 3 tattoos from them and one from another studio but with steel and ink…couldn't be happier for multiple reasons.
1. The studio is extremely clean. Being in the medical field and being around sterile environments, watching how the set up and take down and take care of their place is awesome and puts people like me who know how it's supposed to be done at ease.
2. Very nice staff. For one the owners care about their customers! Brandie Morton and Shawn Medina provide a tattoo experience that's bar non. From being friendly, to answering questions, to make last minute changes, they will do whatever it takes to make sure when you walk out the door that your 100% happy
Lastly 3. The quality of tattoos that are done in this shop will and do stand right next to the best! They have artists that specialize in certain designs, color or B&W, realistic, portraits and anything else you can think of. So when you walking in the shop asking for a certain design or piece they will steer you in the right direction! Mine are all B&W and seeing what Shawn can do with the different shades are unreal. You are able to send him an email of what your looking for with pictures and he sits down and goes to work drawing. He does all his own work and never traces other tattoos. You tattoo will be one of a kind! Seeing his work in picture does not do it justice. Shawn and Brandie do amazing work! So if your looking for a clean, friendly, awesome tattoo experience and an amazing tattoo that people with do double takes at look no further than STEEL AND INK!